中国设计院校名录–上海(List of Design Schools in Shanghai,China)
Technorati Tags: 上海大学, Shanghai University, 华东理工大学文化艺术学院(筹), 上海理工大学艺术设计学院, 上海交通大学建工学院, 工业设计本科学位, BA in Arts Design, 工业设计本科学位
International Schools
Shanghai is home to a number of international schools. This makes it
convenient for expatriates to cater to their children's educational needs.
KINDERWORLD INTERNATIONAL KINDERGARTEN(SHANGHAI)
Address:Floor 2, Regent
Serviced Apartment, No. 8 Jinan Road
Tel:63867880
Fax:63877131
Zip
Code:200021
SHANGHAI KOREAN SCHOOL
Address:No. 2999 Qixing Road, Minhang
District
Tel:34100011-800
Fax:34100022-814
Zip Code:201101
Deutsche Schule Shanghai
Address: No. 437 Jin Hui Road Min Hang
District
Tel:
64059220*116
Fax:
64059235
Zip: 201103
e-mail: info@ds-shanghai.org.cn
website: www.ds-shanghai.org.cn
CONCORDIA INTERNATIONAL SCHOOL SHANGHAI
Address:S2 Plot, Huangyang Road,
Jinqiao, Pudong
Tel:58990380
Fax:58991685
Zip Code:201206
TINY TOTS INTERNATIONAL KINDERGARTEN
Address:Shanghai Park, No.7888 Humin
Road, Minhang District
Tel:64808933
Fax:64808948
Zip Code:201102
TINY TOTS INTERNATIONAL KINDERGARTEN
Address:No. 43 Fuxing Road W. Xuhui
District
Tel:64313788
Fax:64332468
Zip Code:200031
SHANGHAI RAINBOW BRIDGE INTERNATIONAL KINDERGARTEN
Address:No. 2381
Hongqiao Road, Changning District
Tel:62689773
Fax:62691294
Zip
Code:200335
SHANGHAI COMMUNITY INTERNATIONAL SCHOOL
Address:No. 155 Jiangsu Road,
Changning District
Tel:62523688
Fax:62122330
Zip Code:200050
SHANGHAI SINGAPORE INTERNATIONAL SCHOOL
Address:No. 50 Jidi Road, Zhudi
Town, Minhang District
Tel:62219288
Fax:62219188
OISCA SHANGHAI
JAPANESE KINDERGARTEN
Address:Fl. 2, S building, No. 200 Lingxin Road N.
Pudong
Tel:68899031
Fax:68899032
Zip Code:200127
OISCA SHANGHAI
JAPANESE KINDERGARTEN
Address:No. 20 Lane 715 Maotai Road, Changning
District
Tel:62903298
Fax:62909944
Zip Code:200336
SHANGHAI
UTSUKUSHIGAOKA MONTESSORI KINDERGARTEN
Address:No. 200 Lane 2489 Hongqiao
Road, Changning District
Tel:62694979
Fax:62694595
Zip Code:200335
SHANGHAI UTSUKUSHIGAOKA MONTESSORI KINDERGARTEN
Address:No. 788 Hongqu
Road, Minhang District
Tel:64056318
Fax:64056328
Zip Code:201103
ECOLE FRANCAISE DE SHANGHAI
Address:No. 437 Jinhui Road, Minhang
District
Tel:64059220-105
Fax:64059227
Zip Code:201103
SOONG CHING LING KINDERGARTEN INTERNATIONAL DEPARTMENT
Address:No. 3908
Hongmei Road N., Changning District
Tel:62422881
Fax:62422881
Zip
Code:201103
SHANGHAI HIGH SCHOOL
Address:No. 400 Shangzhong Road, Xuhui
District
Tel:64765516
Fax:64535008
Zip Code:200231
YEW CHUNG
SHANGHAI INTERNATIONAL SCHOOL
Address:No. 983 Huamu Road,
Pudong
Tel:68567202
Fax:68567344
Zip Code:201204
YEW CHUNG SHANGHAI INTERNATIONAL SCHOOL
Address:No.18 Ronghua Road W.
Changning District
Tel:62195910
Fax:62190675
Zip Code:201103
YEW CHUNG SHANGHAI INTERNATIONAL SCHOOL
Address:No.11 Shuicheng Road,
Changning District
Tel:62423243
Fax:62427331
Zip Code:200336
SHANGHAI JAPANESE SCHOOL
Address:No.3185 Hongmei Road, Minhang
District
Tel:64068027
Fax:64012747
Zip Code:201103
SHANGHAI AMERICAN SCHOOL
Address:No.258 Jinfeng Road, Zhudi Town, Minhang
District
Tel:62211445
Fax:62211269
Zip Code:201107
Technorati Tags: International Schools in Shanghai, schools in Shanghai, Shanghai guide, Shanghai kindergarden, Shanghai expatriates school
¡¡


Public Libraries of Shanghai to Adjust the Library Card Fees

¡¡
¡¡
¡¡
¡¡




From January 1st, 2006,
getting a library card of the public libraries in Shanghai will be
cheaper than at present, according to the documents released by Shanghai
Municipal Financial Bureau and Shanghai Price Bureau.

The new scheme applied in the Shanghai Central Libraries consists of two
parts: the cost of the IC card making and the fee for yearly and
temporary library card registration.

Follows please see the new and the current scheme of the card fees:


Library Card Functions


Currently Charged


From Jan. 1, 2006


Duration of Validity


Libraries Applied


General Borrowing


RMB 15


RMB 10


1 Year


Shanghai Library; District/County public libraries


(One-card-through libraries)


Temporary


RMB 10


RMB 5


1 Month


Shanghai Library


General Reading


RMB 10


RMB 5


1 Year


Shanghai Library


Reference Reading


RMB 25


RMB 25


1 Year


Shanghai Library


Reference Borrowing


RMB 50


RMB 50


1 Year


Shanghai Library


Note


A deposit of RMB 100 is required for registering a card with
general loan function;


A deposit of RMB 1000 is required for registering a card with
reference borrowing function

Senior citizens above 70
years and the handicapped will be the immediate beneficiaries when the
new scheme is actualized¡ªwith a valid ID card or a certificate of
disability they are entitled to register a library card with reference
reading function free of charge.

Technorati Tags: Shanghai library, Shanghai library rules, Shanghai guide to the libraries
Hilton Shanghai
No. 250 Hua Shan Road, Shanghai, China 200040

Tel: +86-21-6248 0000
Fax: +86-21-6248 3868

Our Hotel

Take a Tour of Our Hotel

Strategically located in the former French Concession area, the heart
of Shanghai's business and entertainment centre, the award-winning
Hilton Shanghai is 20 minutes from Hongqiao International Airport and
50 minutes from Pudong International Airport. With conference and
Hilton Meetings meeting…
Guest Accommodations
Each guest room is a minimum size of 33.63 square meters and features a
seating area, an executive desk, individually controlled
air-conditioning and heating, a refrigerator with minibar set up,
IDD/DDD telephones with two lines, voice mail message system, broadband
internet access and remote control television offering 24 hour
satellite and cable channels, including CNN, BBC, CNBC and Channel News
Asia.
Directions & Transportation
Hilton Shanghai stands on Huashan Road amidst the city centre. From the
Hongqiao International Airport, drive 20 minutes via the Yan'an
elevated highways. From the Pudong International Airport, the hotel is
50-minute drive via the Century Boulevard in Pudong, through the Yan'an
East Tunnel and on to the Yan'an elevated highway. Public airport buses
to and from Pudong airport are available. … View all directions, map, and airport information
Hotel Policies
Check-In: 2:00PM
– Check-Out: 12:00PM
Self Parking:

60.00
Per day

Pets:

No Pets Allowed

Local Information

Today's Weather
Sunny 44F/7C
Maglev Demonstration Line –
from Pudong International Airport to Longyang Road Metro
Station – the 30-kilometer trip will take only eight minutes.

It is the world's first commercial magnetic levitation line.From March
29 2004, It was put into use formally and operates everyday from 8:30am
to 17:30pm. The operation interval is 20 minutes.

The round trip ticket cost 80 yuan and the one way
ticket cost 50 yuan. Passengers with current day flight ticket can buy
a one way ticket of Maglev Train at 20% discount.
Add: Maglev
Train Station of Longyang Rd

Price(RMB):

One Way Ticket:50, 100(VIP)

Round Trip Ticket:80, 160(VIP)

Tel:8008204800, 63600688
It's a guide of sights and sounds. Over 10,0000 pictures or people and places. It a very good guide to what's interesting and what hot after the sun goes down. D.D's Club is a site of adventures of D.D's in Shanghai. D.D's Club sees and tries everything from food to clubs and also hotels in Shanghai. The guide also does all the restaurants in Shanghai.
<a href="http://technorati.com/tag/shanghai+nights" rel="tag">shanghai nights</a>
Technorati Tags: Shanghai guide, Shanghai, Shanghai fun, Shanghai love, Shanghai restaurant revew, Shanghai club review, Shanghai hotel review.
CHINESE
CURRENCY – Renminbi (RMB)
1 yuan = 10

jiao; 1 jiao = 10 fen.
Current Exchange Rate with U.S. Dollar: $100 USD = ABOUT 800
yuan RMB
Note: In Chinese
"Renminbi" (RMB) means "People's Currency"


100 yuan
100 yuan
(new)



50 yuan

50 yuan (new)

20 yuan


10 yuan

10 yuan (new)


5 yuan

5 yuan (new)


2 yuan


1 yuan


0.5 yuan (5 jiao)


0.2 yuan (2 jiao)


0.1 yuan (1 jiao)

From top to the bottom: 5 fen (0.05 yuan), 2 fen (0.02
yuan), 1 fen (0.01 yuan)
From top to the bottom: 1
yuan, 5 jiao (0.5 yuan), 1 jiao (0.1 yuan)
Technorati Tags: Shanghai currency, Shanghai money, Shanghai money pictures, Shanghai exchange rate.

I was chatting with a Shanghai girl in Australia and she's will come back to Shanghai. I think life has many choices but also many responsibilities. Family is still number one, she will come back to Shanghai to stay with her parents. I think it's more duty than anything else. Life has many chances but it seems for a Chinese girl family is still number one. I think a girl choses a husband, she is also thinking of the parents. Will the husband take care of her parents, will he he go and visit the parents. I think the was is very different, the kids are very independent so they go out and do what they have to do. They really yhink less of the parents and do what ever they want. I think it's hard for the girl, when it's her turn to marry, she will do the right thing. Find a husbad that can take care of the family not only her, but also her parents. It's just because things are suppose to be this way. I do not think she will narry on a whim or out of love but more for what is the right thing to do. In China, especially in Shanghai the child policy has made the kids very unique. They grow up but always have to look back. I'm hoping on winning against the odds. Money doesn't buy love but buys happiness in different ways.
Technorati Tags: D.D's Club is life, A day and a life in Shanghai, Shanghai everyday thoughts, Shanghai diary
Background:

For centuries China stood as a leading civilization, outpacing the rest
of the world in the arts and sciences, but in the 19th and early 20th
centuries, the country was beset by civil unrest, major famines,
military defeats, and foreign occupation. After World War II, the
Communists under MAO Zedong established an autocratic socialist system
that, while ensuring China's sovereignty, imposed strict controls over
everyday life and cost the lives of tens of millions of people. After
1978, his successor DENG Xiaoping and other leaders focused on
market-oriented economic development and by 2000 output had quadrupled.
For much of the population, living standards have improved dramatically
and the room for personal choice has expanded, yet political controls
remain tight.
Location:

Eastern Asia, bordering the East China Sea, Korea Bay, Yellow Sea, and South China Sea, between North Korea and Vietnam

Geographic coordinates:

35 00 N, 105 00 E

Map references:

Area:

total: 9,596,960 sq km

land: 9,326,410 sq km

water: 270,550 sq km

Area – comparative:

slightly smaller than the US

Land boundaries:

total: 22,117 km

border countries:
Afghanistan 76 km, Bhutan 470 km, Burma 2,185 km, India 3,380 km,
Kazakhstan 1,533 km, North Korea 1,416 km, Kyrgyzstan 858 km, Laos 423
km, Mongolia 4,677 km, Nepal 1,236 km, Pakistan 523 km, Russia
(northeast) 3,605 km, Russia (northwest) 40 km, Tajikistan 414 km,
Vietnam 1,281 km
regional borders: Hong Kong 30 km, Macau 0.34 km

Coastline:

14,500 km

Maritime claims:

territorial sea: 12 nm

contiguous zone: 24 nm

exclusive economic zone: 200 nm

continental shelf: 200 nm or to the edge of the continental margin

Climate:

extremely diverse; tropical in south to subarctic in north

Terrain:

mostly mountains, high plateaus, deserts in west; plains, deltas, and hills in east

Elevation extremes:

lowest point: Turpan Pendi -154 m

highest point: Mount Everest 8,850 m

Natural resources:

coal, iron ore, petroleum, natural gas, mercury, tin, tungsten,
antimony, manganese, molybdenum, vanadium, magnetite, aluminum, lead,
zinc, uranium, hydropower potential (world's largest)

Land use:

arable land: 15.4%

permanent crops: 1.25%

other: 83.35% (2001)

Irrigated land:

525,800 sq km (1998 est.)

Natural hazards:

frequent typhoons (about five per year along southern and eastern
coasts); damaging floods; tsunamis; earthquakes; droughts; land
subsidence

Environment – current issues:

air pollution (greenhouse gases, sulfur dioxide particulates) from
reliance on coal produces acid rain; water shortages, particularly in
the north; water pollution from untreated wastes; deforestation;
estimated loss of one-fifth of agricultural land since 1949 to soil
erosion and economic development; desertification; trade in endangered
species

Environment – international agreements:

party to:
Antarctic-Environmental Protocol, Antarctic Treaty, Biodiversity,
Climate Change, Climate Change-Kyoto Protocol, Desertification,
Endangered Species, Hazardous Wastes, Law of the Sea, Marine Dumping,
Ozone Layer Protection, Ship Pollution, Tropical Timber 83, Tropical
Timber 94, Wetlands, Whaling
signed, but not ratified: none of the selected agreements

Geography – note:

world's fourth largest country (after Russia, Canada, and US); Mount
Everest on the border with Nepal is the world's tallest peak
Technorati Tags: More useful information about Shanghai, Shanghai guide., D.D's Club
Overview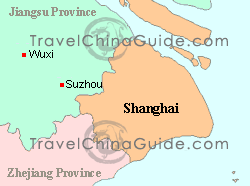 Shanghai,
Hu for short, is situated on the estuary of Yangtze River of China.
It is the largest industrial city in China. Covering an area of
5,800 square kilometers (2,239 square miles), Shanghai has a population
of 18.7 million people, including 2 million floating population.
Originally, Shanghai was a seaside fishing village
and in time its gradual development led to it being granted County
status on August 19th, 1291 during the Yuan Dynasty (1271-1368).
Hence this day became the anniversary of the founding of Shanghai.
Today's Shanghai is a multi-cultural metropolis with both modern
and traditional Chinese features. Bubbling Shanghai shows off every
aspect of her unique glamour.
Serving as the largest base of Chinese industrial
technology, the important seaport and China's largest commercial
and financial center, shanghai draws the attention of the whole
world.
Modern
Shanghai has three key areas of interest to the visitor. These comprise
Sightseeing, Business and Shopping centered upon People's Square
and along the Huangpu River. The city's Cultural Center with its
public activities and community facilities and finally the main
Entertainment and Holiday Tourism area located at Mt. Sheshan, Chongming
Island, Dingshan Lake and Shenshuigang Area.
Known as "the Oriental Paris", Shanghai
is a shopper's paradise. One of the musts for tourists is Nanjing
Road. Huaihai Road intrigues those with modern and fashionable tastes,
while Sichuan North Road meets the demands of ordinary folk. In
addition, Xujiahui Shopping Center, Yuyuan Shopping City, Jiali
Sleepless City are thriving and popular destinations for those who
are seeking to buy something special as a memento of their visit.
A
wide variety of cuisines can be found in the City and today Shanghai
offers a plethora of culinary delights focusing on the traditions
of Beijing, Yangzhou, Sichuan, Guangzhou as well as its own local
dishes. Shanghai's restaurants are among the finest to be found
in China and they welcome diners from anywhere at any time.
Shanghai continues to grow and prosper meeting the aspirations
of the 21st century while retaining its proud traditions of service
and hospitality. The Oriental Pearl TV Tower, Jinmao Mansion and
Pudong International Airport are the modern symbols of an international
metropolis while the Shanghai Museum, Shanghai Grand Theatre and
Shanghai City Planning Exhibition Center are evidence of the extensive
and deep passion of a great city that extends a warm welcome to
friends from all over the world.

Share the up-to-date experiences
of other travelers in China Travel Community

Shanghai
Travel Reviews
Although the city is rapidly developing
into one of the most marvelous modern metropolitans,
Shanghai would not be unique without blending the new
with the old. It is a place where glass-coated skyscrapers
serve as a back drop for an ancient Buddhist temple,
where tea houses neighbor with the newest Starbuck's,
and juicy steamed dumplings belong in the same meal
as a McDonald's hamburger. Also no Burger King is in Shanghai. No matter how rapid the pace
of development, the city's history still resurfaces
in the most unexpected places.—
China's culinary diversity is reflected
in its many regional cuisines. On a recent visit to
Shanghai I was able to sample the specialties of a city
booming with economic development yet still steeped
in delectable gastronomic history and tradition.–
Technorati Tags: Shanghai guide, Shanghai dd's club, Shanghai facts, Shanghai information, things to know about Shanghai